Description
At Ayala Land Premier's newest residential development in NUVALI, five pocket neighborhoods abound as one bountiful community, woven together by a network of green belts and perimeter parks.
Location: NUVALI, Barangay Canlubang, Calamba City, Laguna
Terrain: Undulating Terrain
Gross land area: 85 hectares
Lot size range: 480 sqm – 890 sqm
Average lot size: 531 sqm
Density: 10 lots per hectare
Riomonte NUVALI LTS Number: LS 029824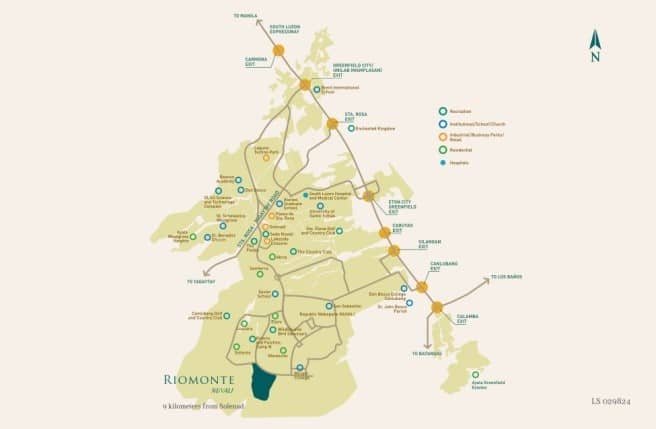 Riomonte emerges in NUVALI South, a sound collective of communities, schools and parks.
A verdant expanse for connections between family and community to blossom. Riomonte presents vast possibilities for evergreen moments and encounters.
MAIN PARK
A 700-meter long green belt unfolds a 30-170 meter-wide twin space dedicated to social gatherings and spirited activity.
Social Zone
• Social Hall
• Residents' Lounge
• Indoor Children's Play Area
Active Zone
• Swimming Pool
• Multipurpose Court
• Fitness Gym
RIDGE PARK
Nature enthrals at Riomonte's 1.5-kilometer long Ridge Park, covering 4.5 hectares of tropical verdure