Description
AYALA GREENFIELD ESTATES
Only 20 minutes from Alabang, Ayala Greenfield Estates is a magical neighborhood that provides residents with a true sanctuary to come home to everyday.
With priceless views of Mount Makiling, Laguna de Bay, Tagaytay Ridge, and the Metro Manila cityscape, Ayala Greenfield Estates also has first-class recreational amenities, including its very own 18-hole, par 72 championship golf course designed by Robert Trent Jones II, the father of environmental golf course design.
A community that works around nature rather than suppresses it, this 350-hectare development serves as the habitat of 35 species and 21 families of endemic and migratory birds. The flora provides a magnificent backdrop to any family scene, and the cool mountain breezes comfort both body and mind.  This sense of being in a different world is made even better by an ideal location that keeps the conveniences of the city only a short drive away.
Available for sale: Phase 5 and 6
Size of Lot/Unit:400 – 700sqm
Price Range: Php3-Php16M
AGE Phase 7 HLURB 26453
Ayala Greenfield Estates is a quick 20-minute drive away from Alabang, or 40 minutes from Makati. Its unique elevation  – reaching 315 meters above sea level  – accounts for a cool year-round climate and exceptional views of Mount Makiling, Laguna de Bay, Tagaytay Ridge, the golf fairways and adjacent woodlands.
Nearby schools:
St. Scholastica's– Westgrove
La Salle Zobel
PAREF Woodrose
Southridge
De La Salle University – Canlubang
University of the Philippines – Los Baños
Don Bosco
Nearby hospitals:
Asian Hospital
South Luzon Medical Center
Nearby commercial centers:
Paseo de Santa Rosa
SM South Mall
Alabang Town Center
Festival Supermall
Sitting at the highest point of the development, the first phase offers panoramic views of Laguna de Bay, Mount Makiling and the Tagaytay Ridge.
Land Area: 50 hectares
Lot range: 513 to 1,833 sqm, with an average of 698 sqm
Facing Laguna de Bay, Phase 2 features a dramatic view of the lake.
Land Area: 16 hectares
Lot range: 451 to 806 sqm, with an average of 566 sqm
With views of the golf course, especially holes #10 and #13, Phase 3 is a walking distance to the Ayala Greenfield Golf & Leisure Club, making it a golfer's paradise.
Lot range: begins at 300 sqm
Only minutes away from the Village Clubhouse and the Nature Park, residents here are treated to outstanding views of Laguna de Bay and Mount Makiling. This phase also offers smaller lot cuts.
Enveloped by forest parks with tree-lined streets that surround the area, you can only feel enchantment at the blossoming scenery around you. Woodland Trails is also adjacent to the Nature Park where you and your family can choose to go walking or biking.
With views of Laguna de Bay and minutes away from the main amenities, this phase lets you experience grand living everyday.
Select lots right on the green are privileged with grand views of the 18-hole, par-72 championship golf course, Mt. Makiling and majestic nature in every direction.
Terraced residential enclaves bring you an idyllic mountainside living experience that unites astonishing views of both Mt. Makiling and Laguna de Bay
Amenities
Ayala Greenfield Estates boasts of world-class facilities that cater to an active lifestyle. Amidst this resplendent natural environment, world-class recreational facilities bestow Ayala Greenfield Estates with a genteel country-club lifestyle that its residents are able to enjoy every single day.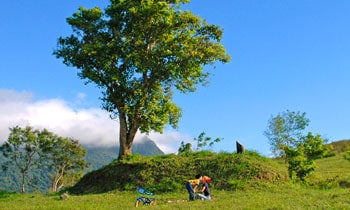 A 15-hectare Nature Park with picnic groves and other amenities such as an open playfield, tree groves, hike and bike trails, a skating rink, a fishing lagoon and camp and picnic sites, provide the perfect place for you and your family to live and grow.
Fishing Lagoon
Picnic Huts
Tree House
Camping Grounds
Biking and Hiking Trails
Playfield
View Deck
From this peak, at 315 meters above sea level, you can cast your gaze over the vast plains of Batangas, the Laguna Bay and the ridge of Tagaytay.
View Corridor
A symbolic connection between Mount Makiling and Laguna plains, the View Corridor traverses almost 500 meters of downhill slope and covers close to 2 hectares of land.
Arbor Trails
The Arbor Trails is a 15-hectare expanse of lush greens, which boasts of several hiking trails for either long leisurely walks or strenuous hikes. There is also a natural winding trail where residents can go biking through the vast surrounding nature. Park rangers, who constantly patrol the property, will conduct hiking seminars for those who would like to learn skills needed for the more difficult trails. Picnic tables, sitting areas and benches are strategically situated around the area.
Riparian Grove
The phrase "nature at its finest" is an understatement when it comes to describing the beauty of Riparian Grove. Whether you are looking for solace in nature, while taking in the lush flora that abundantly surrounds this place, or the adventure and company of other people through the challenging camping trails, it can all be done here in "The Grove" through the different kinds of amenities that it will offer.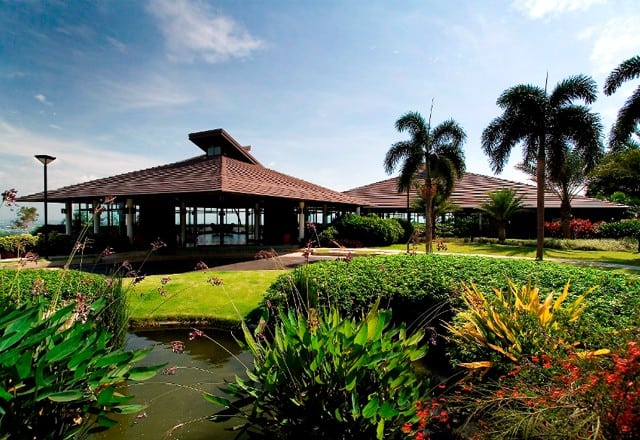 Village Clubhouse
This is the perfect spot for those social gatherings with neighbors and friends. With social halls, function rooms and even a coffee shop, you can easily share an idle chat with visitors from the metropolis, or have that much-awaited reunion with relatives from around the world.
Infinity Pool
Children's Pool
Jacuzzi
Sports Facilities- Indoor and outdoor basketball courts
– Indoor and outdoor tennis courts
– Indoor badminton court
– Fitness gym
The Golf Course
Residents and guests can enjoy the 18-hole, par 72, all-weather championship golf course designed by the father of environmental golf course design, Robert Trent Jones II.
Ayala Greenfield Golf and Leisure Club
Beyond the golf course, residents can take a break from the activities and dine with a view at the Ayala Greenfield Golf & Leisure Club.
Weekday
Weekend
Resident
Non-Resident
Resident
Non-Resident
Accompanied (up to 3 guests)
9 Holes
        850
              850
    1,350
           1,350
18 Holes
      1,500
           1,500
    2,500
           2,500
Unaccompanied
9 Holes
      1,100
           2,500
    1,600
           3,750
18 Holes
      2,000
           5,000
    3,000
           7,500